May 12TH 2004
WEDNESDAY

Thought it would be fun to dig into my swing art archives.
I found this postcard from the 1920s on my travels.
"Always the question for dancers is: Can we fly?"

--Jean-Christophe Maillot, Ballet choreographer
---
TRANSLATE THIS
AND WIN A FREE PASS
TO SEE THE JIVE ACES AT THE RHYTHM CLUB MAY 28TH!
The first person to accurately translate this paragraph wins a free entrance to The Rhythm Club at the Jives Aces show on May 28th. So far, no one has been able to unravel it! Be the first! The translation will be read tonite at the Rhythm Club by non-other than Mr. Maxwell DeMille.
"All us Sandgropers think Rusty is an alright chick. Most arvos she liked to spine bash cos she was stuffed after checking out the roos and the local yobbo's. A yobbo is recongnised by his mullet. She spent a few quid on things from Op shops. This is where stuff goes after people have popped their clogs. Rusty is a vejjo and she liked our snags. She was pretty partial to our lollies, bikkies and vegemite too. She's no drongo! We went to Swanny beach where she posed in her bathers and checked out the surfies. She took a photo of a dunny on the way. Most of the time we were flat out like a lizard drinking. One highlight was hooning around the farm in the ute and seeing the emus in the bush. I think she had a rip snorter of a holdiay. She didn't whinge once."

by Liz Crothers & Rob Howarth (Rusty's hosts Down Under)
SO MANY EXCITING THINGS
I've been home a full two weeks now from my Australia trip, and finally settling in. The gorgeous weather we've been having has helped loads.
Augie's care package is going out this weekend, so if there is any last minute item you'd like to contribute (books, cds, baked goods, etc.) make sure to get them to Jessica tonight at the Rhythm Club. Our video postcard came out great. We'll post it up on the site after he receives it.
Classes have been wonderful. Sunday, we weren't sure anyone would show up (as it was Mother's Day), but just about everyone was there!
Live music at the Rhythm Club is going great. We quite proud that we've been able to keep the format going for a year and a half now. And you should be proud of yourselves, because you are the ones supporting it! We're so lucky to have at our doorstep some of the greatest swing musicians around today.
Speaking of which, we've got Josh "The Kid" Colazzo tonite at the Rhythm Club with his Feet Warmers. Josh is considered the modern day Gene Krupa. Ask any band leader, and they'll tell you how this kid kicks the entire band up about ten notches! Boy, can Josh swing! We'd be utterly remiss if we didn't mention the beautiful, talented, and superbly swell Wendy Rea, who is on the vocals. This gal looks like she just walked out of an MGM 1940's musical.
May 28th, we've got a special treat for you -- direct from London, England, The Jive Aces. What better way to start your Memorial Day Weekend than a Friday nite at the Rhythm Club dancing your little feet off?! Make sure to mark your calendars. Don't miss it! This evening is a special event brought to you by Rusty Frank and Hilary Alexander.
I want to thank those of you who take a moment to tell me how much you enjoy this newsletter. It's probably one of the biggest projects I tackle each week (and one of the loneliest - violins, please). So each and every one of your comments makes it all worth it.
Maybe I'm a little late in the game, but I just discovered Live365.com, and have uploaded some wonderful internet radio stations for my listening pleasure. I'm listening to one right now called "Sweet & Lovely, Hot & Sassy! Songs from the '20s and '30s." Heavenly!
Happy reading and viewing.
---
JUNE CLASSES ANNOUNCED
One week off for Memorial Day Weekend
Our next Lindy By The Sea classes will begin in June. Extraordinarily, we are actually going to take a Sundy off! Yes, Memorial Day Weekend's Sunday, there will be a break from classes. So go out, have a great barbecue... and then come back to work it all off on June 1st for Tuesday classes and June 6th for Sunday classes.
TUESDAY FEATURED CLASS -- STYLING YOUR BASICS!
Here's a much needed class, and it's the very first time we've offered it! You know your basics, your swing outs, your sugar pushes... but they look like basics. You look around the dance floor and see people doing those same moves but with such style and panache. What the heck do they know that you don't know?! Let's take four weeks to explore all the opportunities you have to make ordinary classic moves look fantastic! You should have your swingouts, lindy charleston, and sugar pushes down and danceable.
---
JIVE ACES COMING TO THE RHYTHM CLUB
Friday nite -- May 28th
As a special one-off event, Rusty & Hilary present the amazing Jive Aces at the Rhythm Club, Friday nite, May 28th. Just a couple weeks away, this crazy group of spectacular performers will be bringing an entire evening of swing music for your dancing pleasure.
We want to make sure you all know it's a Friday nite, and that it's in addition to our regular Wednesday nite. To make everything affordable for you, we're having a dj nite the Wednesday before ($8) instead of our regular live music ($12). The Jive Aces nite is $15, so make sure to fill your piggy bank!
What better way to start your three-day weekend!
MAY 12
MAY 19
MAY 26
May 28
FRIDAY!

Save the date!!

FRIDAY!! FRIDAY!! FRIDAY!!


Rusty & Hilary present, direct from London,
a special Rhythm Club
appearance and swing dance with the...
JUNE 2


Dance Lesson and DJ on the first Wednesday of each month from 7:30-8:00
8:00-11:30pm -- Dance! Dance! Dance!
(check our calendar)
This Week's Celebrations
Leslie Magnesi
Faye Callen
Rohit Eustace

If it's your birthday this week, just let us know at the Rhythm Club so you can get your birthday dance!
Save Your Brain! Dance!
This in from Debbie Bowen!
emphases added by Rusty
The Einstein Aging Study, summarized in June 19, 2003 New England Journal of Medicine, found that dancing helps prevent dementia. Dementia in the study refers to both Alzheimer's disease and vascular dementia. Vascular dementia is the 2nd most common form of dementia after Alzheimer's.
The study included participants in six brain-stimulating hobbies - reading, writing for pleasure, doing puzzles, board games or playing cards, group discussions and playing music. The study also included participants in 11 physical activities including team sports, swimming, bicycling and dance. Dance was the only physical activity that benefited the brain. This was attributed to the cerebral rather than the physical aspect of dance.
Researchers found that the relationship between the mind-stimulating effects of dancing, as well as in the above six types of hobbies, and the lowered risk of dementia remained strong even after they allowed for variables such as age, sex and education. Frequency of activity also was important! 63% lower than that among subjects in the lowest third. We believe this emphasizes the importance of engaging in a regular program of dancing.
The need to learn and remember numerous dance movements produces a constant and very beneficial challenge to the brain.The social aspects of dancing, the relaxation it produces and the joy of dancing also is involved. The sense of accomplishment and confidence acquired by successfully completing a dance with a partner are beneficial, as well.
Fitness, both mental and physical, often begins with one's state of mind. Mental acuity comes from mental exercise and if you're dancing, you're not sitting at home watching TV or feeling sorry for yourself. This applies to everyone of all ages. Among mind-stimulating activities, dancing is unique in that it also provides beneficial physical exercise.
Many people have gotten the message. That's why we see increasing numbers of people of all ages having the time of their lives on dance floors all over the county. They are receiving a double payoff, mental and physical.
Keep Your Brain Alive! Go Dancing!
---
MAXWELL'S AT THE ARGYLE USO EVENT!
WIN $200!!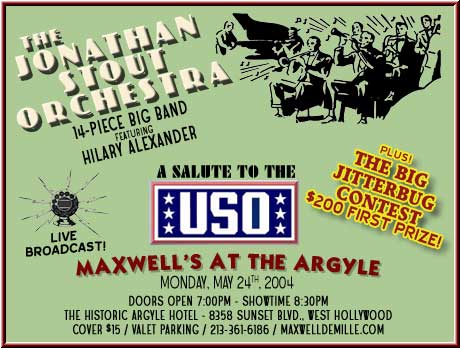 Win $200 at the Big Jitterbug Contest! It's all part of a Salute to the USO featuring the 14-piece Jonathan Stout Orchestra coming May 24th to Maxwell's at the Argyle. Vintage military attire invited. Members of the Armed Forces past and present admitted free. The contest is limited to 12 couples. Sign up today! Email to contest@maxwelldemille.com. More info at http://maxwelldemille.com/nightclub.
---
SWING 'N BLUES AT IVAR
FUNDRAISER FOR PROJECT ANGEL FOOD
A Swing Dance Party benefiting Project Angel Food featuring The Viper 6 and Spanky Wilson, Sunday, May 23rd, 8 PM - midnight at Hollywood's Club IVAR, 6536 Hollywood Blvd., Hollywood CA Open Bar Tickets $49.99 each, available at Ticketmaster) or Project Angel Food ()
Club Ivar will be the site of a Swing 'N Blues party sponsored by KKJZ - FM (88.1), Asahi Beer, Danzka Vodka, Knob Creek Bourbon with live music all night. The evening will open with The Viper 6, a stompin' swingin' jazz lineup of King Aurthur Michael Dias "Doghouse" the III on bass, Catalina Eddy on guitar, "Doctor Bob" Brenman and Robert Alts on horns, Atomic Jim Stromburg on drums and Miz Christine singing scat.
Headliner for the evening will be the extraordinary jazz singer Spanky Wilson and her band performing in her world renown swinging, bluesy style... as Doug McIntyre of KABC's RedEye Radio says, "She's da bomb!"
Click HERE for details.
---
---
During Rusty's stay in Australia, she was interviewed
for the local Perth newspaper. To read this article, click HERE.
And to hear her 7:15am radio broadcast, click HERE
Report of Dance Event at Sunrise Assisted Living 4/24/04
Sunrise Assisted Living Facility Activities Coordinator, Michelle Ianicci, asked the SSRC to come back for their annual Theme party for the residents and their families. This years' theme was a Cruise Ship theme, and Michelle dressed as, appropriately, the Ship's Activities Director. There was lots of entertainment planned, and we were selected to dance for, and with, the residents, their families, and facility employees. Our participant list reflected an exceptionally good turnout:
Debbie Wastling, who also doubled as Narrator ('cause she has that fun British accent)
Kirk Tuey (he can do swing, he can do ballroom, he can do...)
Curtis Mitchell (one of Debbie's music students)
Sandy Marchese (sp?) (she and Curtis were "drafted" to do the birthday dance)
Alice Infelise and Dan Danner (always adorable)
Linda and Tony Garcia (our favorite ballroom couple)
Wendy & Gilbert Concepcion (always out there with the residents)
Norman Kajikawa (brought the sound system and took photos which will be forwarded separately)
Jessica Densmore (music selections and script)
The higher than average turnout meant there were more breaks for the dancers as floor space was limited. This left more time for contact with residents, families and employees. The Cruise Theme was used to "cruise" to a "second Swing Era" and noted a bit of swing and jazz history, as well as demonstrations of Lindy traditions of escorting the lady on and off the floor, birthday dance and steal dance. The script was left open to improvisation by Debbie Wastling who did her usual fantastic job of narration and sparking enthusiasm in residents and employees; we had several of each join us out on the dance floor, to learn some basics or to show what they knew. Many residents later told stories of their dance experiences during WWII. Our birthday dance featured Sandy and Curtis, Dan dipped the ladies with his usual aplomb (aplomb?), and Linda and Tony were our featured Ballroom and Latin dance couple, who drew "ooh"s and "aah"s from the audience. Kirk and Alice, Wendy and Gilbert and Norm and Jes went in at intervals and worked on audience participation. Norman was very helpful with the sound system as well as taking photos of the Event. Michelle invited participants to stay for dinner and to view other upcoming entertainment. Side note: Michelle was an avid swing dancer some years ago and Debbie was able to convince her to join us at Alpine the following monday for their dance night; looks like the Swing World has her back!!!
Future Events in the works include another dance at Fort MacArthur in San Pedro and Shriner's Children's Hospital in L.A.
"OPERATION AUGIE CARE PACKAGE"
DEADLINE FOR CONTRIBUTIONS TONITE AT THE RHYTHM CLUB! (WEDNESDAY, MAY 12)
As you've read, one of our precious swing dancers is currently serving a tour of duty with the Marines in Iraq. His nickname is Augie, swing dancing is his main passion. He'll be there for some time, and his job there is intense (to say the least). Jessica Densmore, came up with the idea of a "Care Package" from us to Augie.

We have the Swing Shift Rhythm Club (SSRC), which is a volunteer program where we, well, basically try to make the world a better place through swing dancing by community service and just plain old fun events. We often send dancers to hospitals and senior homes, and we get together to dance in fun places like the "Swing!" show and Disneyland.

Jessica, who coordinates the community service arm of the SSRC, came up with "Operation Augie Care Package". (What a gal!).

So here's the idea:

We put together an awesome "Swing Care Package" that we send over to Augie and his pals. Some of the ideas so far are:

* Swing Music cds
* Swing related books
* Homemade pastries (cookies, cakes)
* Swing related clothing (T-shirts, shoes, etc.)
* Instructional swing dance videos
* A video from us to him (to take place at the Rhythm Club with our greetings...)


If you would like to participate in "Operation Augie's Care Package" with a gift or an idea, or even a small monetary gift to cover the postage or a gift):

EMAIL Jessica at jdensmore@mail.com.

We thank you all in advance for your care.

Dancingly,

Rusty on behalf of the Rhythm Club/Lindy by the Sea and the Swing Shift Rhythm Club http://swingshiftontap.com

P.S. If you would like to write Augie a letter, here's his mailing address:

Cpl Freeman, Lee A
1st Tank Bn, Tow Plt
UIC 41671
FPO AP 96426-1671

or if you would like to email him: laf98z@yahoo.com

JOIN NOW! -- click SWING SHIFT RHYTHM CLUB -- send your first and last name and email address.

Our Swing Shift Rhythm Club (SSRC) is the volunteer arm of our local swing dance community. Through the SSRC, we visit senior homes, children hospitals, and entertain and dance at street fairs. The purpose of the club is to do some good deeds and promote the fun of swing dancing. Anyone can join the club. The events are varied, and purely volunteer in nature. You'll get a notice through the SSRC Yahoo Group website of upcoming events, and you can chose which one(s) you'd like to attend.
---
NATIONAL TAP DANCE DAY CELEBRATION MAY 22 RUSTY TO PERFORM AND BE PRESENTER HONORING MIRIAM NELSON
Miriam Nelson flying high with Johnny Coy
TAPDANCE.ORG: This site holds all things "tap". Whatever you want to find, whomever you want to find... if it has to do with tap dancing, this is the place. National Tap Day was declared in 1989, and has been enthusiastically observed around the globe ever since. The actual date selected was Bill "Bojangles" Robinson's birthday -- May 25th. The events are usually held on the Saturday nearest. In Los Angeles, we'll be having a wonderful outdoor celebration. Our very own Rusty will be one of the featured performers at this year's National Tap Dance Day celebration. She'll also be presenting a special award to Miriam Nelson, long-time friend and choreographer.
It's hard to describe everything in this amazing woman's career. But here's an abbreviated list:
Miriam Nelson credits:
Five broadway shows in the 1940s: Panama Hattie, Let's Face It, Yokel Boy, Very Warm For May, Sing out the News.
Two years under contract at Paramount as dancer, actress, and choreographer.
Two years at Warner Bros. as choreographer with Gene Nelson.
Columbia Studios, as choreographer and dancer in many pictures. (Cover Girl, Jolson Story)
1953-PresentTelevision, including choreographed Red Skelton Show, The Colgate Comedy Hour NBC, Shower of Stars, CBS; Judy Garland's first television show; Betty Grable and Harry James first tv show (also as co-producer); Eddie Fisher Show; The Hollywood Palace; Buck Rogers; Battlestar Gelactica; Designing Women, John Ritter Show, the new Delta Burke show,
Went back to Columbia, choreographed for Ingrid Bergman in Cactus Flower.
Choreographed two Academy Award shows.
Did many live shows: Radio City Musica Hall Easter Show; did an ice show at Radio City; several shows for the White House; staged directed the primary for Nixon; did the opening of Disneyland in 1955 and many shows for the park; did the travelling arena show of Disney on Parade;
Staged and choreographed and directed acts for: Gordon and Sheila MacRae, Donald O'Connor, Rose Marie, Steve Lawrence and Edi Gorme,William Bendix, Carol Channing, Ann Miller
Charity shows: SHARE, gala for Alzheimers, Thalians Ball.
Miriam posing in the 1930s
Miriam posing in the 2003s with Will Ryan and Rusty Frank
---
Swing Shift
www.swingshiftontap.com
* Wondering what the heck a "gate"is? This was a phrase popularized by 1940's comedian, Jerry Colonna, who would holler it out every time he was introduced on the Bob Hope radio program. It was a friendly salutation to a swing cat (dancer or swing music enthusiast).
JOIN THE SWING SHIFT RHYTHM CLUB TODAY!
Our Swing Shift Rhythm Club (SSRC) is the volunteer arm of our local swing dance community. Through the SSRC, we visit senior homes, children hospitals, and entertain and dance at street fairs. The purpose of the club is to do some good deeds and promote the fun of swing dancing.

Anyone can join the club. The events are varied, and purely volunteer in nature. You'll get a notice through the SSRC Yahoo Group website of upcoming events, and you can chose which one(s) you'd like to attend.

JOIN NOW! -- click SWING SHIFT RHYTHM CLUB -- send your first and last name and email address.